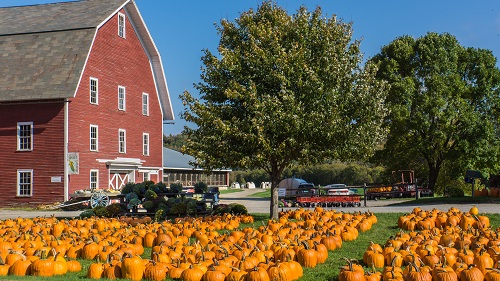 There's just something about fall in Ohio.
Maybe it's the red, orange and yellow hues of the leaves. The bite of fresh apple cider while sitting on a bed of hay pulled by a large piece of farm equipment. The roar of the 100,000-plus in the Horseshoe. The smell of a fire on a cool evening.
Whatever it is, …
there is definitely something glorious about this time of year in the Buckeye State.
Fortunately, there are plenty of events in the Columbus area highlighting these simple pleasures. Here's a cheat sheet for some of the best:
Picking The Perfect Family Activity
If your family's weekend plans for October don't include visiting an apple orchard, pumpkin patch or corn maze, you're basically doing autumn wrong.
Picking out your own food is always more fun during crisp autumn days, when families flock to one of the area's many apple orchards and pumpkin patches. Ohio's apple season runs through late October or early November, you have plenty of time to celebrate the region's bountiful harvest. Kids of all ages also love to find their way through corn fields at one of the area's corn mazes.
Fall into Festival Season
Columbus loves a good festival, and fall is full of them! A few to keep in mind this October include:
All-American Quarter Horse Congress: (Oct. 1-27, Ohio Expo Center) Billed as the largest single-breed horse show in the country, this event attended by more than 700,000 people runs for most of the month. Check out the selection of riding gear and exciting events such as barrel racing and bull riding.
HighBall Halloween: (Oct. 11-12, Greater Columbus Convention Center) Reminding you that "you are what you wear" Highball is that nation's most elaborate costume party. Come celebrate runway style with the unique culture of the Short North Arts District.
Columbus Italian Festival: (Oct. 11-13, St. John the Baptist Church) The city's Italian Village is becoming more hip by the day, with its ever-increasing number of bars, cafes, condos, and live music venues. Enjoy the Italian entertainment, parade and of course, the food!
Fashion Week Columbus: (Oct. 13-19, locations throughout Columbus) Explore Columbus's fashionable roots with local and emerging designers during the week-long event. Start practicing your runway turn now.