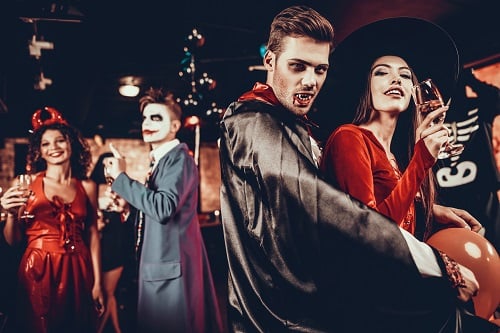 Whether you're into the scary, silly, sexy or sweet side of Halloween, Columbus is a boo-tiful place to enjoy late October festivities.
There are so many Halloween-themed events going on in the area that it can be hard to keep them straight. Here are just a handful of the fun ways
to celebrate the All Hallows' Eve season in Central Ohio:
Boo at the Zoo: (October 25-27, 10 a.m. to 8 p.m.) Get your superhero on at the Columbus Zoo with this family-friendly, "merry-not-scary" day of fun. Kids can get up close and personal with their crimefighting favorites such as Spider-Man, Iron Man, Hulk, and Captain Marvel, while exploring Halloween-centric spots like Frogwortz, Pumpkinpalooza and plenty of candy stops.
HalleBOOia!: (October 25, 8 p.m., Hughes Hall Auditorium) Not only is the event fun to say, but it's also the most magical musical night in town. The 26th annual concert features Ohio State student vocalists and instrumentalists performing a variety of musical styles. Dress up in your best Halloween costume. Although tickets are not being issued, use this webform to reserve four seats for the limited-availability event.
Official Halloween Bar Crawl: (October 26, 3-11 p.m., Arena District) There's nothing like partying with the city's scariest and sexiest souls at a bar crawl to some of the best bars around. Tickets get you in free to all participating bars, a color-changing cup, food and drink specials, prizes and guides to lead you in the right direction. Tickets $18.75-$39.99.
North Market Halloween Family Funday: (October 27, 11 a.m. to 2 p.m., 59 Spruce St.) This free, rain-or-shine event gives kids the chance to trick or treat with indoors and outdoors vendors. Columbus Zoo animals will be on-site from 11 a.m. to noon, while spooky Halloween records will be spun by Raymond T. Vinyl. Other activities include games, face painting, pumpkin painting, a coloring station and more.
Tried-and-True Trick-or-Treat: Of course, the staple of any Halloween fun schedule is the part where little princesses, superheroes, football players and witches stroll around neighborhoods uttering those three words. Communities host these designated times on various dates throughout the season, although most are still on the night of October 31. If you prefer the safety of collecting candy in parking lots, there are also many trunk-or-treat events planned in the area. Let the fun-sized festivities begin!