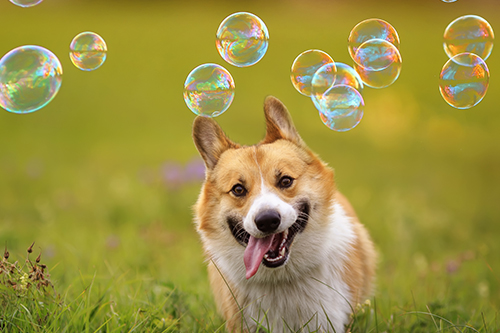 Like you, your pets will get bored cooped up in the house all day. While you're taking a break from working at home, spend some time playing with your pet. It's not only a stress reliever, but a great way to keep you both entertained.
Top Toys For Cats And Dogs
Gone are the days of a simple tennis ball or rubber mouse. Cat and dog toys are now designed to create stimulating play so your pets will work their minds and muscles.
Finds for Fido:
BarkBox: These monthly subscription boxes are full of goodies for your dog's unique preferences. Boxes are $25 a month and include two toys, two bags of treats, and one meaty chew.
Bacon-flavored Bubble Blower: Try these non-toxic, tear-free bubbles that your pup will love chasing down and gobbling up.
Chuck It! Ultra Sling: The sling-shot design of this toy will cover some serious distance during your next fetch session.
The cat's meow:
Friends Forever Cat Laser Toy: This laser pointer comes with three settings of varying difficulty and a 15-minute timer. Try the random setting to put your cat's agility to the test.
Play-N-Squeak Backyard Cat Toy: The bird-shaped toy smells like catnip, so your pet will be able to hunt with its natural instincts.
Pet Health And Wellness
If you live with an older dog, especially one with hip issues, you may want to invest in a dog mobility scooter. The Walkin' Scooter allows dogs with hip troubles or paralysis to move through their home with ease. It's also low to the ground, so your pet can lie down for a quick snooze.
Cats are all about climbing and lounging. The Catit Vesper Rocket was voted the best cat tower at the 2020 Global Pet Expo for its multilevel roosts and sturdy metal frame.
Find A The Vet
Don't forget to schedule regular vet appointments. All pets require regular check-ups to monitor their health and prevent fleas and ticks. No need to worry about costly vet bills thanks to pet insurance options.
Embrace Pet Insurance: Covers exam and wellness fees
Nationwide: Covers cats, dogs, and exotic pets
PetPlan: Covers hereditary and chronic conditions
Squeaky Clean
If you're looking for a living community that is pet-friendly and offers amenities for their well-being, check out Harper House and Luxe 12.5 at the Highlands. These locations offer pet spas, so you don't have to struggle bathing your pet in the tub.
Contact Preferred Living for more information on our pet policy and amenities.