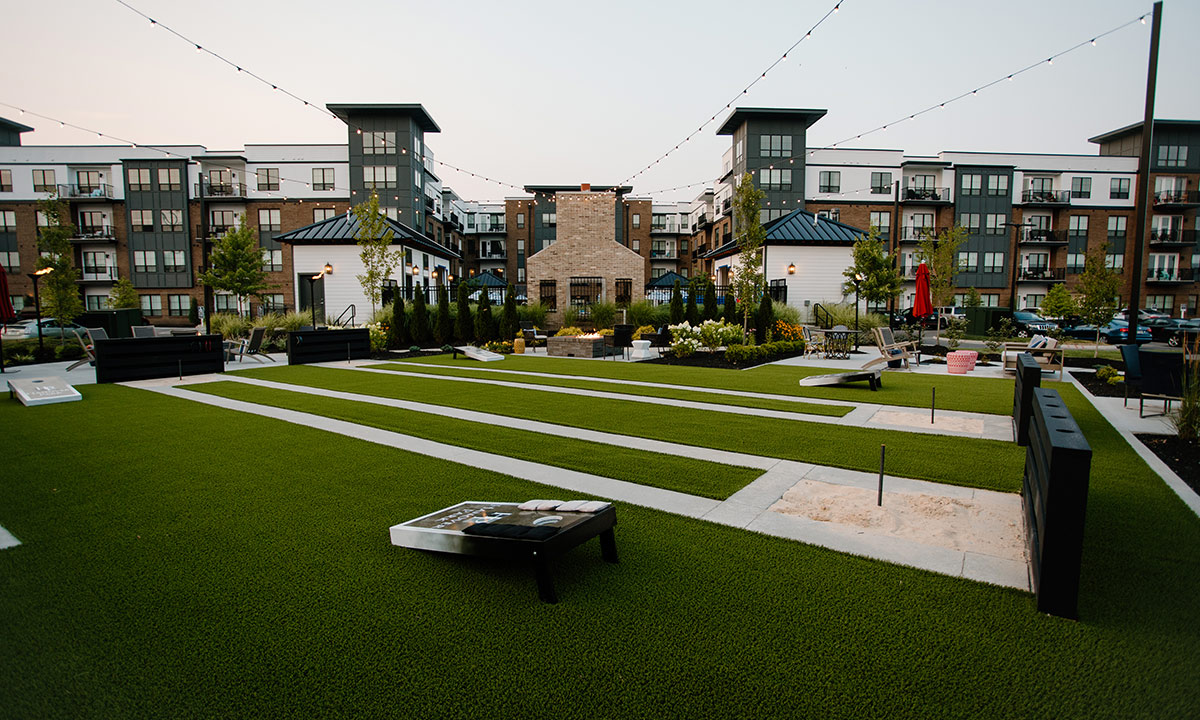 We don't limit our amenities to indoor entertainment at Preferred Living. Our residents can relax, unwind and have fun outside as well, and The Lawn is the perfect example.
This unique outdoor space is shared by Belmont House and Hanover Park and boasts lots of incredible features. Let us walk you through what it would be like to spend an evening on The Lawn.
Outdoor Entertainment at Your Doorstep
Imagine coming home to your luxury apartment after a busy day. You drop your items off in your comfortable suite, but you don't feel like sitting inside after a long day's work. You also don't want to go out or spend money, so what can you do? Suddenly, you remember The Lawn and head out to explore.
It's All Fun and Games
You stroll past the pool where a fountain bubbles in the center of the water and wave at your neighbors who sit in comfy outdoor furniture chatting about their day.
Just past the large outdoor firepit, you come across two horseshoe pits where residents are in the midst of a game. Others are playing cornhole under the strings of lights that create a canopy over the green. They invite you to join them for the next game, but you politely decline.
You've spotted the two pro-style lit sand volleyball courts and have to check them out. The fine-grain sand is well-groomed and smooth. You ask to join a group of people who are just about to start a game.
A Space to Gather
You leave the volleyball court tired but satisfied with the outcome of your match against your neighbors. You promised to return for a rematch tomorrow, and look forward to spending time with them again.
You contact some friends and plan for them to visit this weekend, thinking The Lawn is the perfect place for an outdoor gathering. The activities and extra seating create a lovely space for entertaining. And the designated food truck lot means you won't have to worry about cooking.
Before you go to bed, you realize you forgot to take your dog for a walk, so you head to the off-leash dog park to let your pup burn some energy. You head home knowing you'll definitely be back at The Lawn soon.
Contact Preferred Living to learn more about The Lawn and our other unique indoor and outdoor amenities at all our luxury apartment communities.