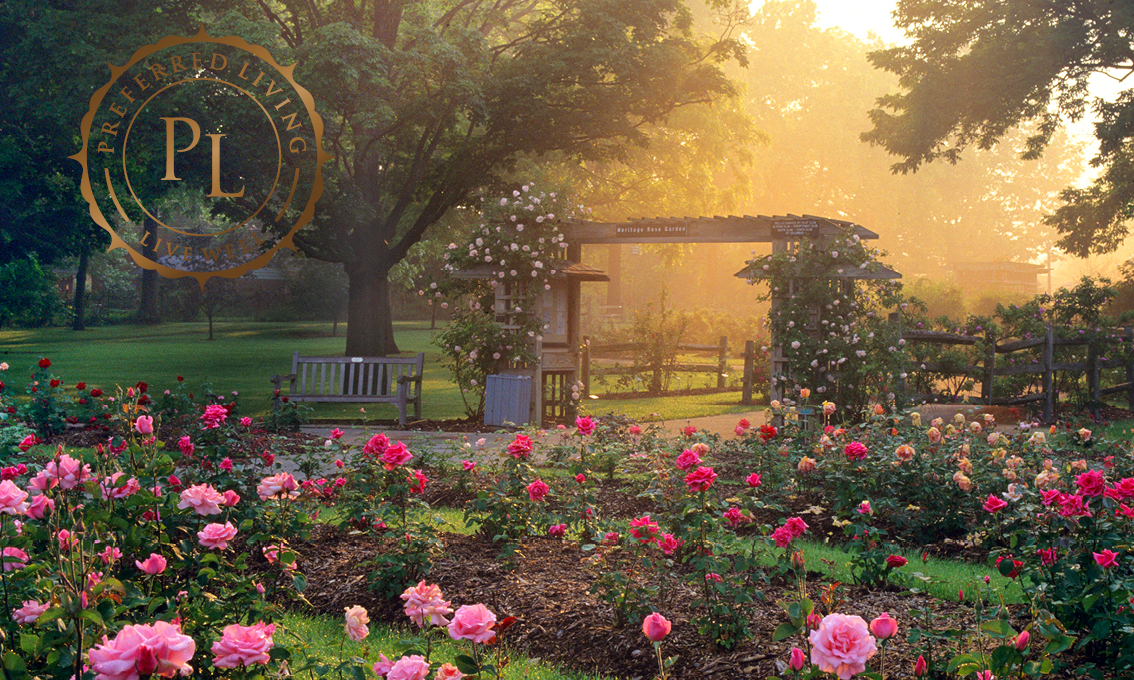 According to The Getaway, these are some of the things you simply shouldn't miss in Columbus, OH. We at Preferred Living happen to think this is a pretty great list!
Ohio's state capital certainly has a lot going for it. It's full of friendly people and great minds, live music, and sporting events, shopping and museums, nature trails and gardens, arts and culture, zoos and parks, restaurants and festivals, and bars and nightlife. Columbus pretty much has everything you could ever ask for in a city, and you can experience it all for a lot less money and with far fewer crowds than some of the glitzier American metropolises.
Ramble through the Roses
It's all coming up roses here at the Columbus Park of Roses — 12,000 of them to be precise, sprawling across 13 acres. There are also herb and perennial gardens scattered throughout this sublime spot, which was established in 1953 by the Central Ohio Rose Society and the Columbus Rose Club.
Read your way through 32 Rooms of Books
The Book Loft, a 32-room, three-story independent bookshop located in Columbus' charming German Village neighborhood, is one of the city's top tourist attractions. It started with just five rooms when it first opened its doors in February 1977, but as other stores in the building began closing, the Book Loft just kept adding rooms until it grew into the behemoth it is today. With an estimated half million books for sale, the quirky bookstore now takes up a whole block and is so big it needs its own directory.
Stroll amongst Living Sculptures
The instantly recognizable pointillist masterpiece, A Sunday Afternoon on the Island of La Grande Jatte by Georges Seurat, was recreated in the topiary form at a picturesque park in Columbus. The so-called Topiary Park was the brainchild of James T. Mason, a Columbus sculptor, who was inspired to design a few topiaries for his lawn by his wife Elaine. The original idea grew and grew until it eventually spiraled far beyond the scope of a backyard project. The public art installation, which was officially dedicated in 1992, includes topographic sculptures of eight boats, 58 people, three dogs, a monkey, and a cat, all shaped from yew trees.
Stop by German Village
German Village is a charming historic neighborhood lined with cobblestone streets and beautiful brick houses. In 1974, the entire district was added to the National Register of Historic Places. It's chock full of coffee shops, lunch and brunch spots, patisseries, parks, restaurants, and live entertainment. You could easily spend whole days exploring this quaint quarter of Columbus.
Walk amongst Giant Numbers
Going by the numbers, you're bound to enjoy this whimsical campus sculpture garden featuring larger than life numbers and hidden mathematical formulas. The Numbers Garden, which was installed in 1994, can be found on the lawn outside the engineering building at Ohio State University. You can count on getting a few good selfies here as you hang out with these human-sized numerals.
Eat your way through an Indoor Marketplace
Columbus' North Market is famous both inside and outside the city, and as soon as you step inside and breathe in the delicious aromas of cuisines from around the world, you'll know why. With ethnic food, gourmet groceries, fresh local produce, and unique handmade cuisine, the market has been connecting local vendors to the community since it was established in 1876. Either bring your purchases home with you or enjoy them right on site — there are plenty of tables located on the second floor of this repurposed factory building.