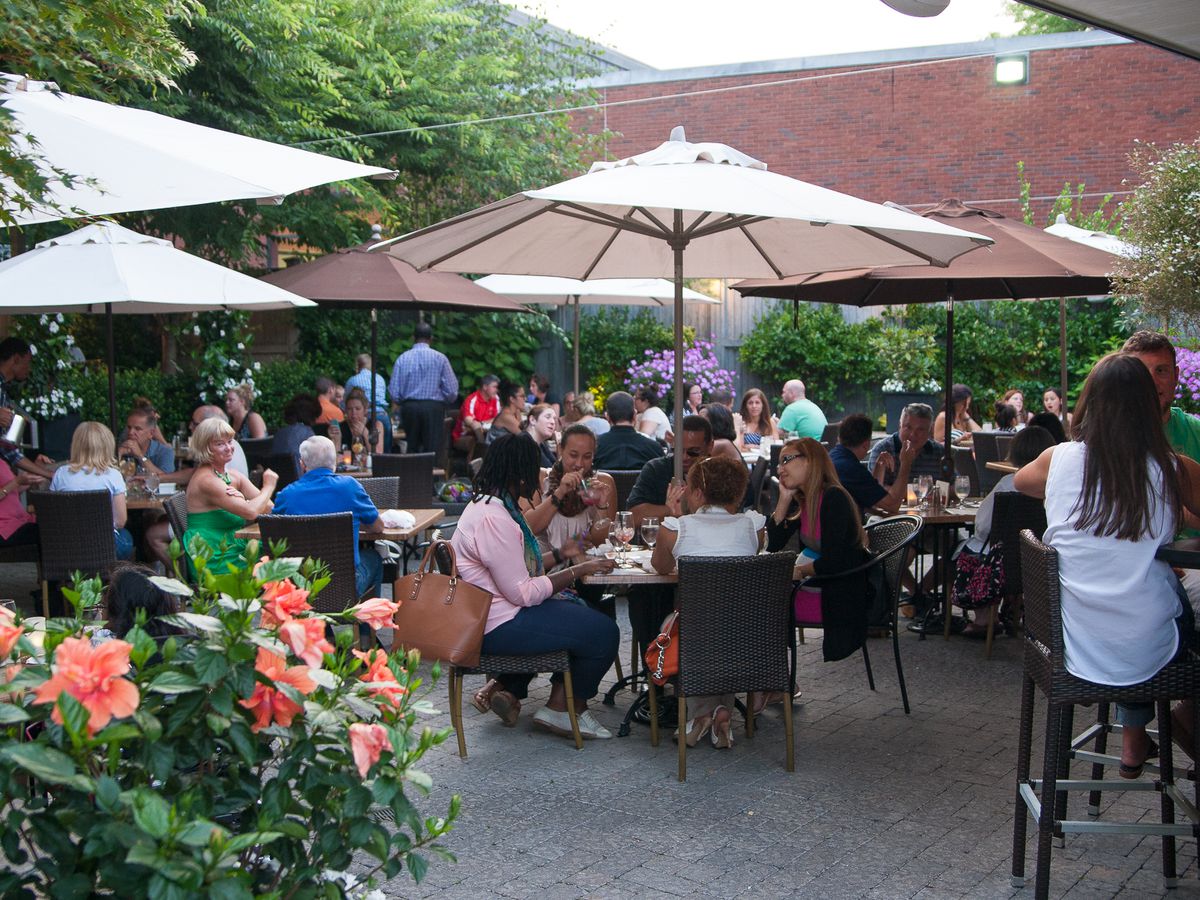 We found these great reccomends from Columbus Underground:
The best patio in Columbus can be a subjective response based on what you're looking for in an outdoor dining experience. Which is why we were pleased to see the results when our readers were asked to select the number one patio in Columbus. The end result is a list of places where you can find upscale dining, fancy cocktails, neighborhood joints, rooftop experiences and much more.
BrewDog DogTap – Canal Winchester Location
Description: When Scotland-based BrewDog opened their 100,000 square foot US brewing facility in Canal Winchester a few years ago, everything they did was larger than life. So it should come as little surprise that their "DogTap" taproom on site at the brewery measures 10,000 square feet in size — much larger than your average bar. Outside is an industrial-chic patio featuring freshly brewed beer on tap, fire pits, live music, picnic-style seating and much more to make the destination worth the drive just outside of town.
Milestone 229
Description: Milestone 229 has won a lot of accolades since its launch in 2011, both for its menu and its atmosphere (you can read our new review, here). While the interior of this riverfont restaurant features floor-to-ceiling glass that offers great views of the city, the patio is what truly shines, with more of a 360 vista as well as a front row seat for the water fountain shows at Bicentennial Park.
Vaso
Description: One of the tallest new buildings in any of Columbus' suburbs is the eight story AC Hotel at Bridge Park in Dublin that opened in 2017. And on the top floor of that hotel you'll find Vaso — a restaurant and bar open to the public that features a rooftop patio with a stunning view. Instead of a Downtown skyline though, you're looking out at the trees along the Scioto River while sipping cocktails in front of a fire pit
Grandview Cafe
Description: The Grandview Cafe has a history that dates back to 1925. The restaurant's lower and upper patios serve as a neighborhood spot to watch sports and a late night hangout for the young professional crowd.
Land-Grant Brewing Company
Description: The Land-Grant Brewing Company was one of the first new businesses to call Franklinton home during the current wave of new development in the neighborhood. Their humble launch included a communal-style beer hall connected to their brewing facility, but their outdoor space has continued to evolve over the past several years into a full-fledged gravel-lined beer garden event space. Food trucks like Ray Ray's Hog Pit can be found serving up grub while live music and other special events bring all the local beer enthusiasts to the yard.
Basi Italia
Description: The patio at Basi Italia has often been described as transformative. For nearly 20 years, this Victorian Village spot has showcased some of the city's finest Italian cuisine. Dining indoors here is quaint and cozy, but the patio opens up for a larger-yet-still-intimate experience where foliage and flowers quietly mask the city around you so you can focus on food and friends.
Barcelona
Description: While Barcelona has been a staple on many patio lists for over 20 years, the history of the building as a restaurant dates back over a century. The charm of the space carries forward today both inside and out, and the patio is one of the most lush, with plenty of greenery during the warm summer months. Lights and water features also set the mood for any special occasion or non-special occasion.
Seventh Son Brewing Co.
Description: When Seventh Son first opened in 2013, it was one of the first of many new breweries to launch in the Columbus region. Their front patio served as a small asphalt space to drink local beer and grab a quick bite from a food truck — which was good enough for Italian Village residents looking for something new to try. After five years, Seventh Son has expanded drastically inside and out, adding not only brewing capacity but a larger and nicer outdoor space, and a second level indoor-outdoor room with a retractable roof that doubles as an all-weather patio-esque experience.
Lindey's
Description: For nearly 40 years, Lindey's has been one of the most celebrated restaurants in Columbus. Nestled in the heart of German Village, the restaurant is a picturesque bistro on par with any East Coast counterpart. And while the interior is well decorated, the patio is also well known as one of the most visually attractive in the region. Pair that with top notch food and stellar service, and it's no wonder that our readers picked this as the #1 choice for the best patio in Columbus.